When Beth Roberts, Speech-Language Pathologist at HSNS in Middleton noticed that many families involved in the Healthy Beginnings Enhanced Home Visiting Program were faced with barriers to accessing services, she decided to investigate the cause.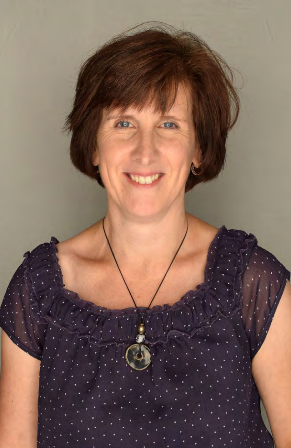 Beth Roberts, SLP
Healthy Beginnings, a program offered through Public Health Services provides support for families facing challenges, including hearing and speech challenges, through a comprehensive home visiting program. Barriers for families can include fear of judgement, difficulty attending sessions, and challenges following through with treatment recommendations. Beth came to realize that working alongside Angie Hunter, a home visitor with Healthy Beginnings, could help minimize barriers. "Angie is sometimes involved with these families from the birth of their child and creates a supportive relationship with them," says Beth. "We knew she'd be able to explain our services in an approachable way, helping families get their foot in the door."
A partnership between HSNS and Public Health Services now formed, Angie and Beth made a plan to reduce barriers to accessing services, empower families to engage in treatment, and educate home visitors to assist families with a family-centred, strengths-based approach.
As part of the new engagement process, Angie helps make appointments around bus schedules, sends text reminders, attends initial speech and language appointments, and more.
Receiving feedback that some families struggled to apply what they've learned in a clinic setting at home, the partners turned to a 'train the trainer' approach to treatment. The two organizations reviewed ways that activities in the Healthy Beginnings curriculum could align with what families were learning in speech therapy.
"This partnership helped me learn the skills and techniques that Beth was teaching to families, allowing me to anchor the learning for families during home visits," says Angie. "I encourage families to complete their homework between sessions while strengthening their confidence."
Having made a great start in program implementation, Beth, Angie and Susan Doucette, Clinical Manager of Speech-Language Pathology at HSNS looked for additional insights from Speech-Language Pathologists in areas like Yarmouth, Bridgewater, and Digby.
"This partnership helped connect professionals from across the province who would have otherwise never had the chance to come together to share their ideas," says Susan Doucette. "This allowed us to broaden our ideas, and we're now even considering potentially expanding this beyond the local level."
Angie, who says the partnership has created an understanding of roles between each team, says it's also bridged a gap between two very important services. "We're able to address the barriers, find unity in our messaging using a family-centered approach, and encourage families to feel confident in accessing services."
Looking forward to the future, HSNS and Public Health Services are considering other ways to support families through expanding education opportunities for home visitors, joint training for professionals and joint programs for families.
"Moving forward, we want to make sure that we're reaching everyone who needs our services by minimizing barriers," says Beth. "This partnership has such potential because when everyone works together towards a common goal, everyone succeeds."